My mum lurrrves sesame paste. But in the past, everytime she offered me some, you should see my face contort in disgust! I mean, Ewww! Despite being nutritious and healthy, most places sell sesame paste that either contains too much husk, tastes too bitter, or are filled with starch. Besides, the black colouring simply adds to the mindset that my tummy will reject the sesame paste in a few ways which I can think of.
However, Qin and I were walking along Liang Seah Street on Saturday and we decided to grab some chinese desserts. I had no idea why, but I was feeling kind of adventurous and so guess what?! If you guessed that I ordered sesame paste, you got it right! Well, half right actually. I actually ordered Yuan Yang Hei Bai (yuan yang stands for coupled and hei bai means black and white) which is a blend of sesame paste and almond paste.
A bold colour and smooth texture: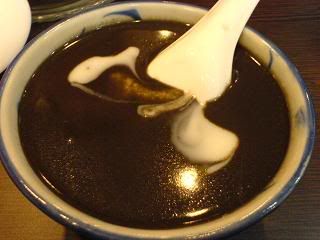 Man, let me tell you. After eating that first mouth, I was a convert. The sesame paste they served was extremely smooth and lack the usual grainy texture. The taste was also sweet and carried a strong but not overly bold sesame taste. Actually, I suspect that the bitter taste found in most sesame pastes is caused by the sesame husks. This particular stall took the effort to filter away the husks, thus removing the bitterness. The paste was also thick to the right extent and it doesn't look like any starch was added. Coupled with the almond paste, which was a little more sweeter and very smooth as well, it made a really good dessert!
Blended together, you get a nice colour and a treat for your tastebuds:
For anyone who has avoided sesame paste for the same reason as mine, I strongly advice you to consider trying out this stall!
Address:
Liang Seah Street
Beside a porridge based steamboat & is Opp and NOT Ah Chew's dessert.
(There are only 2 chinese desserts stall in that lane so it should be easy to find.)